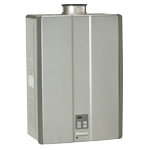 Most water heaters in the area are traditional tank-style water heaters and vary in size. These water heaters work by heating a tank full of water through a heat source. Gas water heaters have a burner at the bottom and heat the water in the tank like a pot on a stove, while electric water heaters use elements that heat the water typically in the middle of the heater. Both methods heat the water to a desired temperature in the tank then they shut off. Once you turn on the hot water at a faucet in the home cold water enters the tank and forces the hot water out. As this happens the water in the tank begins to get cooler as the cold water enters. Once the water in the tank starts to cool down, the heating elements or burners come back on. The cold water cools the water in the tank faster than the heat source can heat it and over time the whole tank will be filled with cold water and you will be out of hot water for the home. Once the hot water faucet is turned off the system will again be able to heat up the water in the tank again. Most common issues with these tank-style water heaters are the pilot light not staying lit so the burner will not kick on because of it and you run out of hot water and the tanks tend to leak typically with age and because of the hardness and the quality of the water in our area. Westshore Mechanical would be honored to repair or replace your water heater.
Why Choose a Water Heater from Westshore Mechanical
Westshore Mechanical is built on the foundation that we value our clients and want to install products that exceed expectations. Our water heater installations are no different. We understand that water heater failures can be stressful. Most people never realize just how often they use their heaters and how much damage they can cause when they leak.
Tankless Water Heaters
Due to skyrocketing energy costs and damages caused by leaking water heaters, there is a larger and larger demand for tankless water heaters. New homes are even starting to install these instead of a traditional water heater. It works on demand, so unlike a traditional heater that is always heating, tankless water heaters save on energy costs. Tankless water heaters can also continually run whereas a tank water heater runs out of hot water. They typically last much longer than a tanked water heater and when parts do begin to fail, the repair cost is typically less than a standard water heater.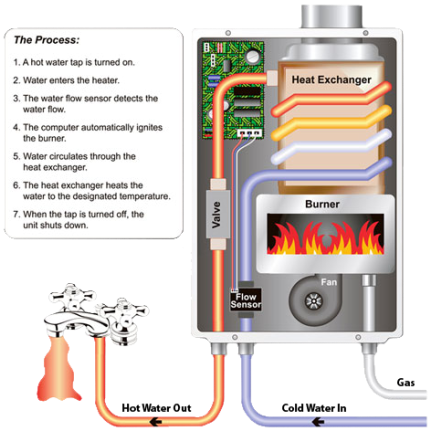 Frequently Asked Questions